Father-daughter duo Arthur & Pauline on travel deals and destinations the world over. 3TW w/ photo
Travel experts Arthur Frommer and daughter Pauline Frommer provide the most immediate deals, reliable reviews and unusual destinations for savvy travelers.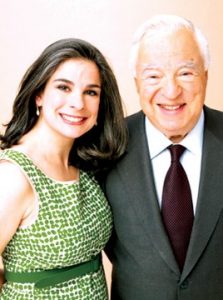 Arthur Frommer is the nation's foremost travel authority. His books, articles and speeches have profoundly changed the travel habits of Americans and the products of the travel industry. He is the founder of the Frommer's® Travel Guides and today hosts a syndicated travel radio show with daughter Pauline. A graduate of Yale University Law School, his travel career began in 1957 with publication of the best-selling Europe on $5 a Day, which is widely credited with having launched a travel movement by American tourists to Europe. The Fort Lauderdale Sun-Sentinel wrote: "What Benjamin Spock was to babies and Alfred Kinsey was to sex, Arthur Frommer became to travel. Like Spock, he wrote with the authority of experience; like Kinsey, he opened up a whole new world. And while the work of those two men has been eclipsed by others, as well as by changing times and fashions, Frommer remains a powerful, and indefatigable, force in his field."
Pauline Frommer started traveling before she could speak, seeing the world at a young age with her guidebook-writing parents, Arthur Frommer and Hope Arthur. She went into the "family biz" more than a decade ago, serving as the founding editor of Frommers.com and then the Travel Editor for MSNBC.com, one of the largest news sites on the web.
Following that, she returned to her roots, creating the Pauline Frommer Guidebooks, an award-winning series aimed at adult budget travelers. There are now 14 titles in the series, including Pauline Frommer's Spain, Pauline Frommer's San Francisco and Pauline Frommer's Cancun and the Mayan Riviera. Pauline Frommer's London and Pauline Frommer's New York City were both named Guidebook of the Year (in 2007, 2008 and 2009 respectively) by the North American Travel Journalists Association. Pauline Frommer's London won that same award from its rival organization, the Society for American Travel Writers in 2009. In addition, Pauline was awarded a Lowell Thomas Medal from the Society of American Travel Writers for her magazine work.
For the past three years, Pauline has hosted a nationally syndicated radio show on travel, now heard on more than 130 stations.
Pauline's articles have appeared in numerous publications, including Budget Travel Magazine, Newsweek, Dallas Morning News, Marie Claire, Nick Jr. and the book The Experts Guide to Babies. Currently, Pauline works with Weight Watchers, contributing a daily blog on staying fit on the road.
You may recognize her face, as she appeared every Wednesday night on CNN's Headline News for three years, discussing the latest travel trends. Pauline has also served as a pundit for The Today Show, Good Morning America, The Early Show, The CBS Evening News, NBC Nightly News, Live with Regis and Kelly, The O'Reilly Factor, NPR's Talk of the Nation, CNN, FOX, MSNBC and every local news show you can name.
Pauline is blessed to be married to physical therapist Mahlon Stewart, and is the mother of two very well-traveled daughters, Beatrix and Veronica.
SAMPLE COLUMN
Psssst! Because of exaggerated fears, Paris is today more accessible to the foreign tourist than ever before
November 13th 2016
No city (except Istanbul and Brussels) has suffered a greater recent touristic decline than Paris. Visitor numbers are down by more than 2 million, hotel occupancy is off by numerous percentage points, and visitor attractions and facilities are noticeably quieter. If you are less worried about the terrorist attacks here earlier in the year and the year before, then there is a chance of enjoying better conditions for visiting Paris than in recent years.
Paris deserves your visit – and it greatly rewards the visitors. A case can be made that Paris is among the top two or three of the world's most appealing cities – and perhaps leads all of them. Consider these attractions:
Museums: Paris possesses what is possibly the greatest art museum on Earth – the Louvre. Many of its other major art museums, like the Musee d'Orsay, the Centre Pompidou and the Picasso, featuring modern art – surely are on the list of all art lovers.
Operas and Theater: In addition to enjoying not one but two major opera houses, concert halls and a thriving theater and dance scene, including the Comedie Francaise, Paris is among the theater capitals of the world.
Palaces, Theme Parks and Gardens: Just slightly out of town, Paris presents you with Versailles and Fontainebleau, surely among the world's greatest well-preserved royal palaces, and the Chartres cathedral, in addition to Disneyland Paris and the Monet gardens at Giverny.
Food: Though Brussels would argue otherwise, a great many foodies would rank Paris' restaurants as best in the world (you'll surely eat well there, if you know what you're doing), and there are adventures for the palate everywhere you look.
Landmarks: Its physical facilities -the Eiffel Tower, the Champs d'Elysees, Notre Dame and Sainte-Chapelle – are surely among the world's most ravishing, and easily visited by the tourist.
History: The Tomb of Napoleon, the Pantheon containing the tombs of Voltaire, Rousseau and Zola, among others, the Pere Lachaise cemetery, all are gateways to history, literature and philosophy, all immensely gratifying.
Noble thoroughfares: Simply walking the Grands Boulevards, strolling along the Seine or experiencing its nighttime excitement (this is, after all, the City of Light) are free pleasures.
Shopping: Its giant department stores – especially the Bon Marche and the Galeries Lafayette, are thrilling to visit and fun to browse.
I could go on and on. If you have never before been to Paris, now is your best time in decades. If you have been there before, you'll surely want to return.
** *
Note to the reader: Please be sure to confirm all rates and details directly with the companies in question before planning your trip. The information in this column was accurate when it was released, but prices are competitive, sometimes limited and can always change without notice.
** *
Arthur Frommer is the pioneering founder of the Frommer's Travel Guide book series. He co-hosts the radio program, The Travel Show, with his travel correspondent daughter Pauline Frommer. Find more destinations online and read Arthur Frommer's blog at
frommers.com.
(c) 2016 by Arthur Frommer
Distributed by King Features Syndicate
Photo caption: The Eiffel Tower
Photo credit: gckwolfe/Flickr