Advice on alternative health care. 3TW
Joe and Dr. Teresa Graedon provide expert advice on alternative health care. Accurate information on prescription and over-the-counter drugs.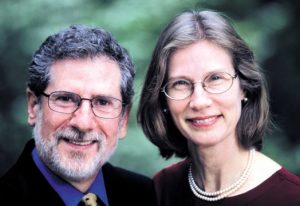 Joe and Teresa Graedon have been a writing team for decades, collaborating on books, articles and their newspaper column, "The People's Pharmacy," which King Features Syndicate distributes to nearly 100 newspapers nationwide three times a week.
The Graedons' goal is to empower their readers to become active participants in their own health care. In addition, one column per week is devoted to alternative medicine, home remedies and herbal treatments.
The Graedons also are co-hosts of an award-winning weekly radio talk show that is carried on more than 500 stations in the United States and around the world on public radio, the In Touch Radio Reading Service and the U.S. Armed Forces Radio Network.
They met in Ann Arbor, Mich., while Joe was working on a master's degree in pharmacology and Terry was studying for a doctorate in anthropology at the University of Michigan.
Prior to graduate school, Joe worked in the neuropharmacology laboratory at the New Jersey Neuropsychiatric Institute in Princeton, studying basic brain physiology, sleep disorders and mental illness.
From Ann Arbor, Joe and Terry went to Oaxaca, Mexico, where Terry did her dissertation research on health and nutrition while Joe taught pharmacology to second-year medical students at the Universidad Autonoma "Benito Juarez." During those two years he started work on a book called "The People's Pharmacy."
The success of the book, a New York Times best-seller for roughly a year, led to additional books, including: "The People's Pharmacy II," "The New People's Pharmacy III: Drug Breakthroughs of the '80s," "50+: The Graedons' People's Pharmacy for Older Adults," "Graedons' Best Medicine," "The Aspirin Handbook" and "Deadly Drug Interactions." "The People's Pharmacy Guide to Home and Herbal Remedies," " Best Choices from The People's Pharmacy" " Favorite Homes Remedies from The People's Pharmacy," "Favorite Foods from The People's Pharmacy,"  "Recipes & Remedies from The People's Pharmacy," " The People's Pharmacy Quick & Handy Home Remedies" and "Top Screwups Doctors Make and How to Avoid Them." 

There are more than 2 million of the Graedons' books in print.
Joe also wrote a medical mystery, "No Deadly Drug," which met with critical success.
Joe belongs to the American Association for the Advancement of Science, the Society for Neuroscience and the New York Academy of Science. He serves on the board of visitors for the School of Pharmacy at the University of North Carolina. He has served as a consultant to the Federal Trade Commission on nonprescription drug advertising. He also has been an adviser to the Drug Studies Unit at the University of California at San Francisco.
He is a member of the Mystery Writers of America and the National Association of Radio Talk Show Hosts.
Joe is considered one of the country's leading drug experts for consumers and speaks frequently on pharmaceuticals, nutrition and self-care. He has appeared as a guest on many major TV shows, including "The Oprah Winfrey Show," "20/20," "Geraldo," "Today," "Good Morning America,"  "The Tonight Show," "The Larry King Show," "Dateline NBC" "CBS Morning News" and "Our Home."
Terry Graedon received a bachelor's degree from Bryn Mawr College in 1969, graduating magna cum laude with a major in anthropology. She attended graduate school at the University of Michigan, getting her master's degree in 1971. She received an Institute for Environmental Quality fellowship, which enabled her to pursue doctoral research in Oaxaca. Her doctorate was awarded in 1976.
Terry is a member of the American Anthropological Association, the American Public Health Association, the Society for Applied Anthropology and the Society for Medical Anthropology. She has taught medical anthropology at Duke University in North Carolina.
SAMPLE COLUMN
Can Indian spice prevent hip-replacement surgery?
November 14th 2016
Q. Does turmeric have valid medicinal properties? My son-in-law was told he needed a hip replacement, but turmeric cured his symptoms. Another son-in-law says turmeric works like ibuprofen for him.
A. The National Library of Medicine (www.PubMed.gov) contains thousands of research articles on turmeric or its active ingredient curcumin. That's because there is intense interest in the medicinal properties of this Indian spice.
Curcumin is being studied for its activity against psoriasis, diabetes, Alzheimer's disease and a range of cancers. All of this research is being conducted in animal models, but the anti-inflammatory activity of curcumin has been shown to help nasal congestion in humans (Annals of Allergy, Asthma and Immunology online, Oct. 24, 2016). It also has been shown to help knee pain due to arthritis when taken as a supplement (Nutrition Journal, Jan. 5, 2016).
You can learn more about the health benefits of this and many other culinary spices from our brand-new book, "Spice Up Your Health: How Everyday Kitchen Herbs and Spices Can Lengthen and Strengthen Your Life." It is available at www.PeoplesPharmacy.com.
Q. I am writing to ask what you might know about CocoaVia. A friend told me she dropped her cholesterol 30 points by taking this natural supplement. My husband, an internist, said supplements that lower cholesterol may not lower the risk for heart disease. Are there any studies regarding this supplement?
A. Your husband is right that not everything that lowers cholesterol actually prevents heart disease. Despite this, the Food and Drug Administration has approved cholesterol-lowering drugs such as alirocumab (Praluent) on the basis of their ability to lower lipids like LDL cholesterol, although they have not yet been shown to reduce heart disease.
There is reason to expect that cocoa flavanols will be helpful. A recent review found that cocoa-flavanol intake improved insulin sensitivity and blood lipids such as cholesterol, triglycerides and HDL cholesterol (Journal of Nutrition, November 2016).
There currently is a major study underway to determine whether CocoaVia standardized cocoa flavanols can reduce heart attacks and strokes. It is called COSMOS (COcoa Supplement and Multivitamin Outcomes Study). We will let our readers know the results when the trial is completed.
Q. I have vertical ridges on almost all my fingernails. Do you know what causes this? Is there anything I could do to improve it?
A. Although they are annoying, vertical (longitudinal) ridges on the fingernails do not appear to be dangerous. These ridges are frequently attributed to aging. Occasionally vertically ridged nails also are brittle. Anemia and atherosclerosis may sometimes be the cause (Canadian Family Physician, February 2011).
You should ask your doctor if you need supplements of iron or B vitamins to correct anemia. A few small studies have suggested that taking biotin (2.5 mg/day) can help correct the ridging and fragility (Journal of Drugs in Dermatology, August 2007).
One reader reported: "A dermatologist told me to take biotin for my nails when they were splitting and cracking. I started taking a daily supplement of biotin, and my nails improved greatly within three months. My son, who is a pharmacist, recommended a product containing biotin, calcium and phosphorus; my nails are strong and ridge-free."
* * *
In their column, Joe and Teresa Graedon answer letters from readers. Write to them in care of this newspaper or email them via their Web site: www.PeoplesPharmacy.com. Their newest book is "Top Screwups Doctors Make and How to Avoid Them."
(c) 2016 King Features Syndicate, Inc.