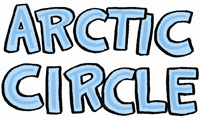 Arctic Circle is a comic strip about a lovable trio of penguins who emigrate from Antarctica to the Arctic. Created by Alex Hallatt, Arctic Circle is an imaginative and witty strip about how, despite traveling half way around the world, the issues affecting these three immigrants are much the same as in the place they left.
The strip centers on the friendship between three charismatic penguins, Oscar, Ed and Gordo, who move to the North Pole to escape mistakes they made in Antarctica. Other characters who round out the engaging cast include a cynical middle-aged polar bear, a gullible lemming, an intellectual snow bunny and a ruthless Arctic tern.
"When I first thought up the strip, I based it in the Arctic because I wanted a blank canvas for my characters. Penguins are funny birds to begin with and moving them to the northern hemisphere created a fantastic creative situation for me," explains Hallatt.
To learn more about Alex Hallatt and Arctic Circle, comics fans are encouraged to visit www.moontoon.com.
ABOUT THE CREATOR
Alex Hallatt
After getting a degree in biochemistry and working seven years in the pharmaceutical industry, Alex Hallatt got her first newspaper cartoonist job in 1999. She worked for Brighton, UK's daily newspaper for four years, creating a topical cartoon panel and a daily comic strip. In 2003, she emigrated from the UK to New Zealand. Arctic Circle was syndicated by King Features in 2007. In 2008, Alex crossed the ditch to live in Melbourne, Australia.
When she is not toiling away at the drawing board, Hallatt is a keen hiker, camper, cyclist, composter and wild-water swimmer.