Humor can be found in just about every nook and cranny – down dark alleys, deep in space, far out to sea and hidden under grates. These are just a few of the myriad settings which serve as a backdrop for our zany cartoon, Chuckle Bros.

ABOUT THE CREATORS – BRIAN AND RON BOYCHUK
The Chuckle Bros story began several years ago in a tiny cabin on the shores of the Atlantic Ocean. Brian Boychuk remembers clearly the moment he decided to turn his dream of creating cartoons into reality. Growing up, he and his younger brother, Ron Boychuk, had been indelibly impressed with the single-panel cartoon work of Herman and, later, The Far Side: to them, Unger and Larson were masters at combining art and the written word, and it was this high standard of cartooning excellence that ultimately inspired the Boychuks to create their own singular work.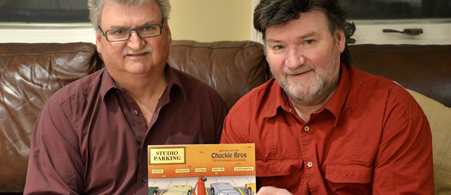 It was during his 2003 family vacation on Prince Edward Island that Brian finally started documenting his vivid free-thought process. By the end of the first evening he was inspired to write down ideas for twenty cartoons. Within a week that number had grown to over one hundred. Buoyed by his brother's enthusiasm, Ron worked with Brian over the ensuing months to develop another two hundred ideas. Knowing they would ultimately need an artist to bring their words to life, they tried in vain for months to find just the right person to draw their new panel.
The Boychuk brothers had all but given up hope when, accompanying his daughter to a musical Christmas concert, Brian met another parent – Ronnie Martin – who was attending the same concert with his daughter. The owner of a small business in Ottawa that designs displays for department store windows and the like, Ronnie was also an avid doodler, and always brought along a sketchpad wherever he went.
Brian, impressed by the ease with which Ronnie drew, said," My brother and I have developed over three hundred concepts for a single-panel cartoon, but we are not artists. Have you ever considered drawing cartoons?" Ronnie laughed and responded,"Yes I have, but the opportunity had never presented itself – until now." There was a prolonged silence as the two men reflected on the serendipity of the moment, and it was shortly after this chance meeting that Chuckle Bros came into being.
Aggressively pursuing syndication, the trio initially landed a contract with Toronto's Torstar Syndication Services in October of 2006 and more recently signed with Los Angeles-based Creators Syndicate in June of 2007.
However, destiny has a funny way of revealing itself and in the latter part of 2008, after much personal soul-searching – and after ensuring that Chuckle Bros would continue on uninterrupted in the artistic direction he had envisioned – Ronnie decided to follow his heart and pursue other creative business interests outside of cartooning. Ron, who had been quietly honing his drawing skills as the official Chuckle Bros storyboard artist for the past several years, stepped up to the plate to deliver a home-run combination of continued excellence, amazing adaptability and imaginative flare that promises to continue to take Chuckle Bros on its meteoric ascent through the ranks of the cartooning world.