Presenting MORE CONTENT NOW SPECIAL SECTIONS
King Features is pleased to offer Special Sections through a collaboration with GateHouse Media's More Content Now (MCN). Publishers have the opportunity to purchase sections on bridal, health, home and garden, family, boomer issues and more at a special rate.
Following the successful production of these sections for its own publications, GateHouse Media launched MCN in 2012. Now King Features provides this high-quality editorial content at affordable rates to a broad range of both print and online publications.
More Content Now's weekly lineup of 52 Special Sections a year is available to preview and purchase immediately.
Browse through a listing of our MCN Special Sections for 2017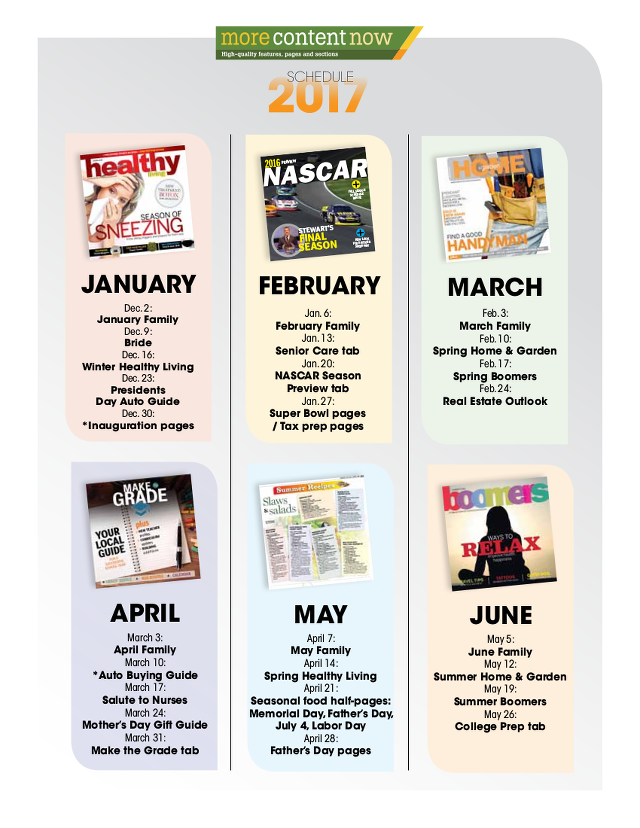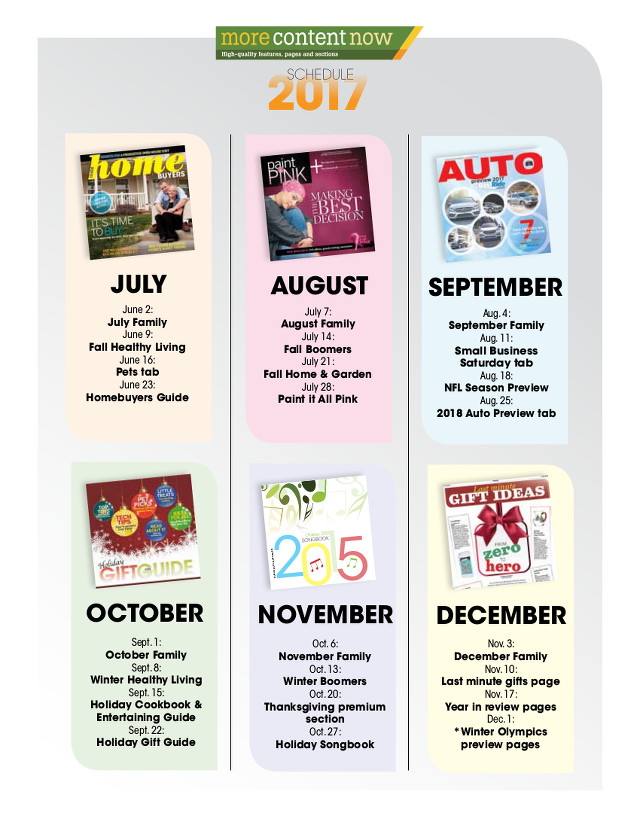 Special Sections Increase Readership and Revenue
Editors,
When you subscribe to More Content Now Special Sections, you get:
Weekly pre-paginated special sections from the GateHouse Media editorial team
In addition to ever-popular topics like bridal, home and garden, and boomer issues, MCN Special Sections for 2017 include:
an inauguration preview for 2017
monthly Family sections
quarterly Healthy Living
several Auto sections, including one timed to Presidents Day and a 2018 model-year preview
Special Sections delivered in a digital format that best suits your editorial needs: InDesign and Quark formats (edit or rearrange the components) or a PDF file (use it as is). All art elements are provided in a Zip file.
Special Sections are typically 20 pages each, 10"x10", with a 50/50 ad-space-to-news ratio.
Ad Directors,
With More Content Now Special Sections, you get:
a high-quality editorial environment with colorful artwork that attracts readers and keeps them engaged.
a broad spectrum of topics that offers multiple tie-in opportunities for advertisers
a showcase for advertisers via full-page ad slots in the majority of the sections; exceptions are the gift guides and the auto guides, which have half-page ad spaces (under the product copy) throughout.