North of 49 Crosswords are unmistakably Canadian. They reflect a Canadian point of view (hero: Terry Fox). The spellings are Canadian (theatre, colour, traveller). The words are taken from our geography, history, culture, and politics, and they acknowledge the diversity of Canadian society. You will also find a sprinkling of common French words. There are no obscure words and no references to American pop culture. The level of difficulty is "just hard enough," say fans. North of 49 Crosswords are good, solid crosswords that have earned a wide following among Canadians. 1 time per week.
ABOUT THE CREATOR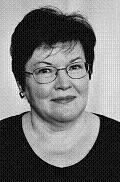 Kathleen Hamilton is the author of six O Canada crossword books and the popular North of 49 crosswords, which appear weekly in major city newspapers across Canada. All her puzzles are chock full of Canadian spellings, events, places and personalities.
A lifelong lover of books, language and words, she dreams up crosswords during the day (and quite likely dreams about them at night) — 'regular' crossword puzzles, that is, not the cryptic type. A former university lecturer, she prefers regular crosswords because they are essentially about language and words. Cryptic crosswords, on the other hand, primarily involve solving puzzles.